SINGLE SYSTEM RECYCLING IN WILLIAMSPORT, PA
One of the newest and most exciting services Bower Disposal & Container Service provides in the Williamsport, Pennsylvania, area is called "single-stream recycling." In the past, you had to separate your recyclables and take them to the local drop-off site. Now, with single-stream recycling, you no longer have to separate everything because it can all be placed in one of our 96-gallon carts.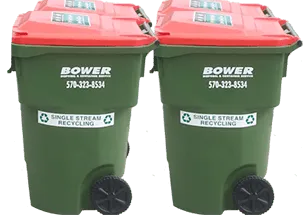 Saving You the Hassle – No More Separating Recyclables!
There's no more separating, loading, and unloading your car, or wasting gas driving to the local drop-off point. Most importantly, we save you time. This is truly the future of waste removal.
It's Never Been Easier To Go Green
If you are currently not recycling, this is a great opportunity! Our Single Stream Recycling program makes it easy for you to "go green" by helping the environment and saving on your trash bill at the same time.
Click here to download our helpful list of acceptable and unacceptable recycled material.
Contact us in Williamsport, Pennsylvania, to learn more about single-stream recycling.
Put It Out the Night Before
The trucks get started as early as 3:00 a.m.
To ensure pickup, please place your trash out on the curb the night before your scheduled pickup date.